The Forewinter 2021 Instagram Photo Series
April 2, 2021
Social Media
Writing about winter
has always been a challenge because there's two of them each year. There's the winter that arrives at the end of the year — that one's easy, you can just call that one "the holidays". The winter that happens between January and March is the one that's a bit more difficult to classify. I could write "early winter", but that just makes it seem like the cold weather came early. I could write "first winter", but that kind of sounds like a line form a National Geographic special about a newborn deer or something. So I've created a new word… forewinter. (I do like creating new words.) Forewinter is the period between January and March, when it's cold(er) here in the US. The second winter (the one that happens at the end of the year), will just be "the holidays".
I'm also hoping to rank high for the keyword "forewinter", seeing as how it's a new word, I should be able to get a top ten ranking. The extra traffic from the 23 people that accidentally type that into Google each year might come in handy.
My Forewinter 2021 photo series on Instagram is a smaller group of photos again. I didn't really get off to the blazing start that I wanted to, and it seemed like spring was arriving much sooner than I was expecting. Since it seems like there's a halfway decent chance for me to actually post "light and springy" photos, I figured I would cut short the darker Forewinter 2021 series, jump into spring, and then get back to some darker photos for "summer". Kind of a … "grilling, hot and steamy, saucy, summer". At least that's the plan.
Since there's not really any logical groupings this time, I'll just review a series of three photos, as they were posted, in reverse chronological order.
Up first, would be my traditional texture squares that separate this period from the "Holiday 2020" photo series… the coffee textures! These were going to have a lot in common with the photos that were planned for this darker series, but I've had some timing and supply issues with getting everything in place, to do what I really wanted to with the series. That's too bad… because these coffee texture squares are the most popular images in the group.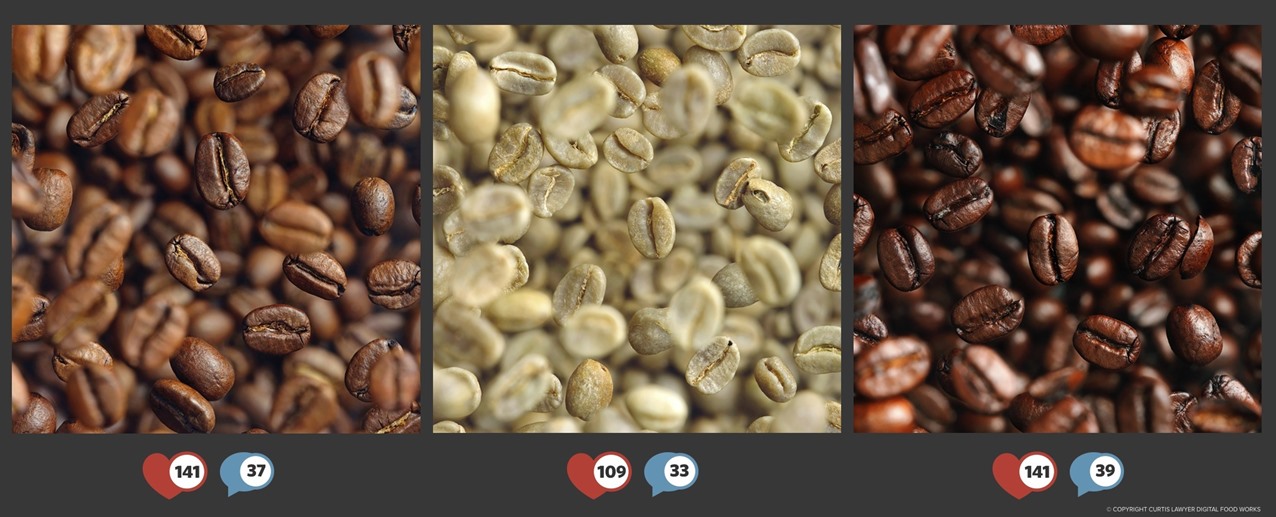 Flying coffee! From left to right there's a light roast, green (un-roasted) beans, and a dark roast.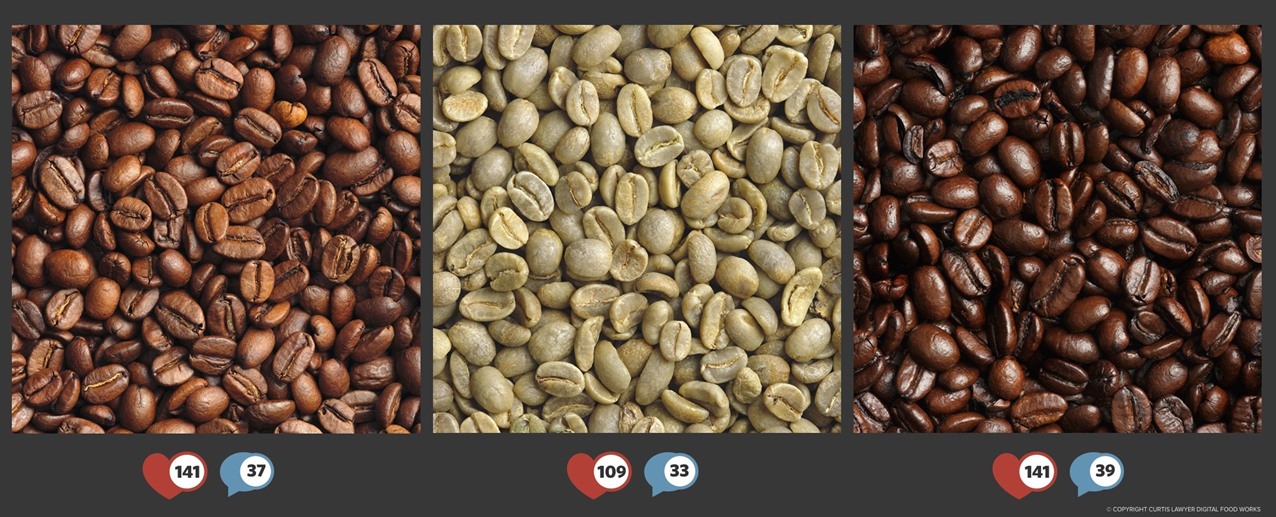 Each of the flying coffee images was the first in a stack of images for that same roast. Here are the texture images that were located under each of the flying bean images.
The next series of three photos also received quite a few likes. Two of the photos in this group were originally planned for this Forewinter 2021 series… the strawberries and the rosemary infused blood orange margarita. The carrot and pepper kinpira slaw photo was created for something else (and didn't end up getting used). It's one of those photos where… there's something I like about it, but can't figure out what that something is.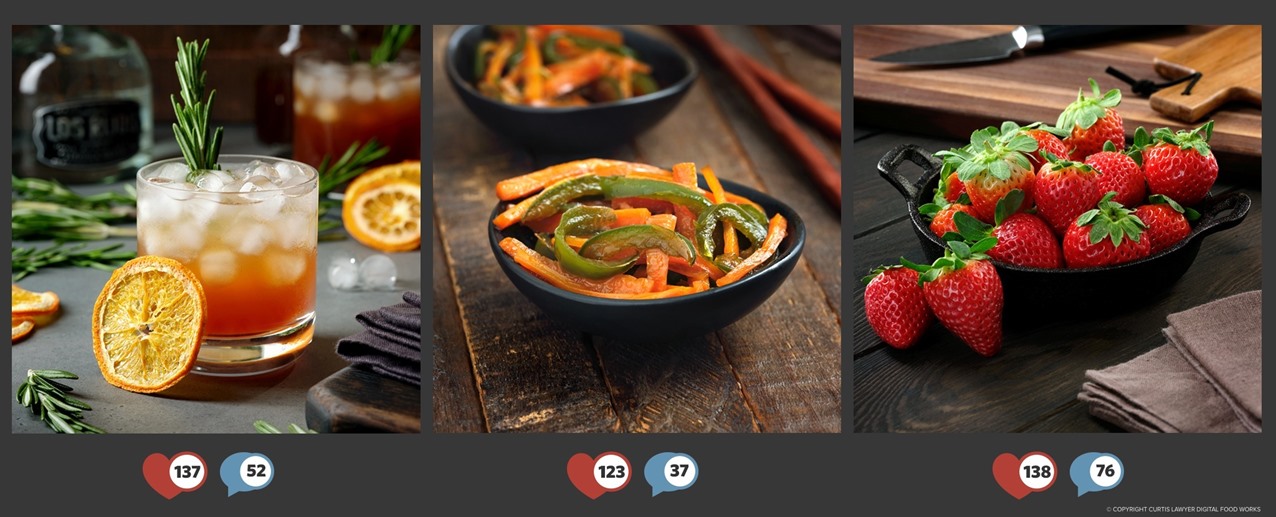 The Rosemary Infused Blood Orange Margarita on the left and the Bowl of Strawberries on the right, were part of the "origianl plan" for the series.
The next row contains two photos that I wasn't going to use — the black, deconstructed butter chicken photo and the salmon salad. It was around this point where it was already early March — I could feel spring just around the corner — and I had only posted a handful of the photos that I wanted to. I think in my head, I kind of abandoned the original idea of what I wanted to put together for this group, and just concentrated on closing out the series with 12 photos (or four rows on Instagram). The Gochujang Sauce Chicken Toast was intended for the original series.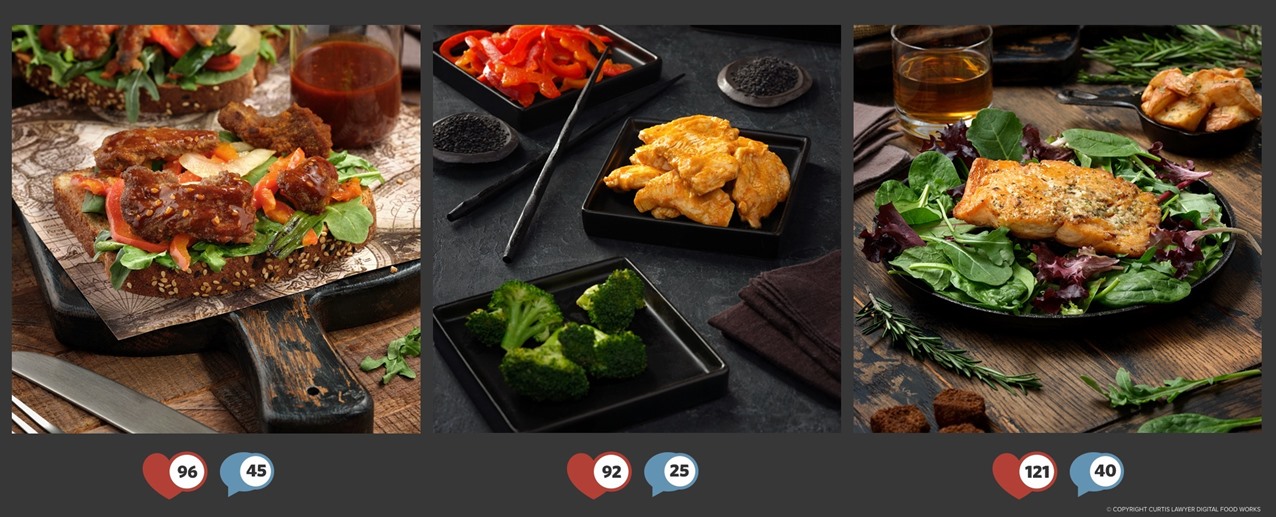 The Gochujang Sauce Chicken Toast (left) was also part of the concept for this series... the Deconstructed Butter Chicken (center) and Salmon Salad (right) weren't — but they seemed to fit in okay with the theme — especially since I was running short on time.
I closed the series with some flakey buns (which ended up being more popular than I thought they would), an overhead shot of a shrimp and noodles dish, and a salted caramel whisky sour drink photo.
I closed the series out with three additional photos, that really were not part of the original concept and theme for this period.
So, I'm going to try swinging into spring with some light, bright, and fresh photos. I'm not sure if the series is going to be much longer than the previous two, but at least I will be posting an "in season" color and lighting theme. Yay!!!
Closing Stats
I'll close out this article in the same way I've closed out the other "
Instagram Recap
" articles — with some general stats!
This group of 12 images resulted in a 5% increase in followers over the course of about 60 days.
The average number of likes per photo was 117 (1,405 total likes divided by 12 photos).
The average photo "like to follower interaction ratio" was around 10.5% (total number of followers at period close, divided by the average number of likes per photo). That's up 0.2% from the previous "
Holidays 2020 Instagram Photo Series
".