The Holidays 2020 Instagram Photo Series
January 31, 2021
Social Media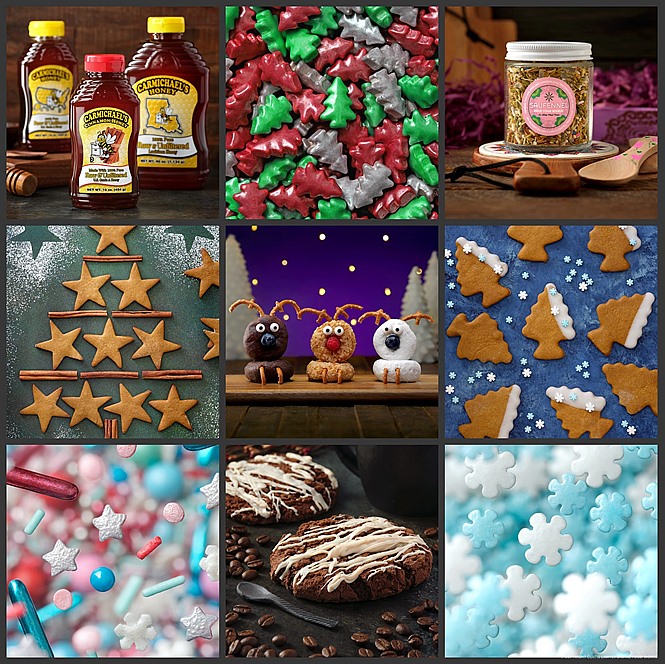 There were just 12 posts that were part of this image series. The nine photos above are a small sample of the images in the "Holiday 2020" series.
My switchover to darker photos
for the winter months got off to a slow start on Instagram. I had intended to start posting photos for this series right after Halloween. When I was ready to go, I looked at the calendar, and realized it was already the first week of December!
So, my "darker photo series" would have to be modified slightly — I had some really cool holiday photos that I wanted to post, before I completely ran out of holiday! Even with those best intentions, I think I got my three Christmas posts uploaded three days before Christmas!
Since this was a mini version of how I've been posting on the Instagram grid, the categories and layout was a bit different. I started with my usual textures as a divider and then did an almost logical 3x3 grid, with my Christmas photos right in the middle.
This ended up giving me four categories with three posts in each category, for a total of 12 posts. Let's take a customary look at those four categories, in a "three across" format along with their stats.
Flying Sprinkles
I was going to start this darker series with some coffee bean photos — but since I was so close to the holidays, I figured some holiday-themed flying sprinkles would be better suited to the time period.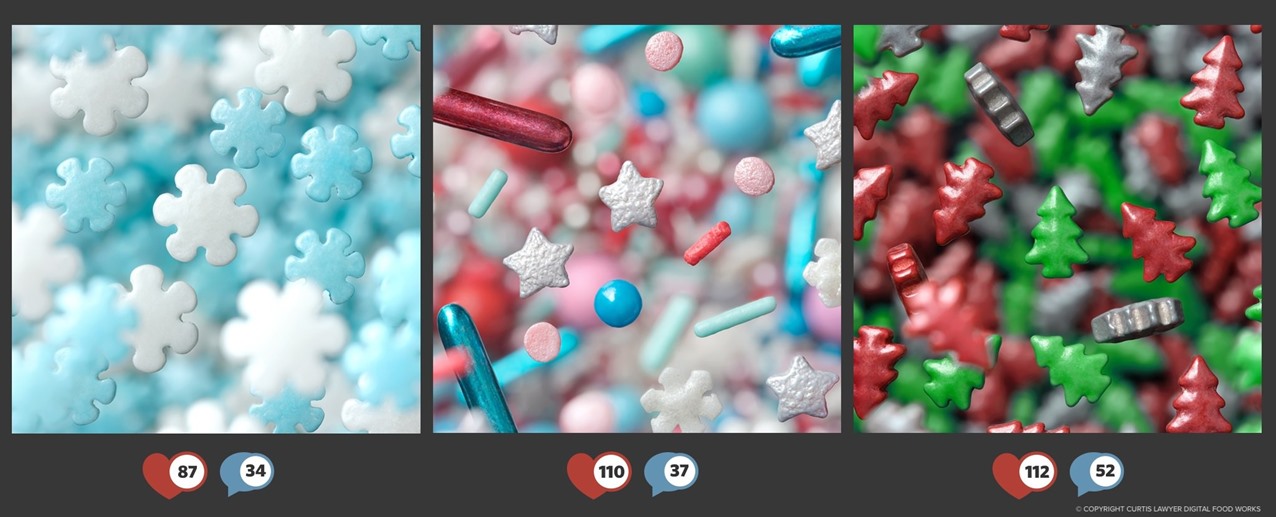 My next attempt using this particular photography method are these flying sprinkles! They're a little larger than the rice textures that were part of the previous series.
It ended up being a very useful exercise as well. I started playing around with this "flying things" technique using rice grains (which are really small) and then these sprinkles. They're still pretty small, but they're larger than rice and smaller than coffee beans, so it was a very logical "next step".
Product Photos on Dark
In the past, I've selected one product to use in a series of photos — but as fate would have it, I received three products all around the exact same time! Since this was a darker themed series of photos, I set each of the three products up in a darker environment, in addition to shooting the "product on white" photos.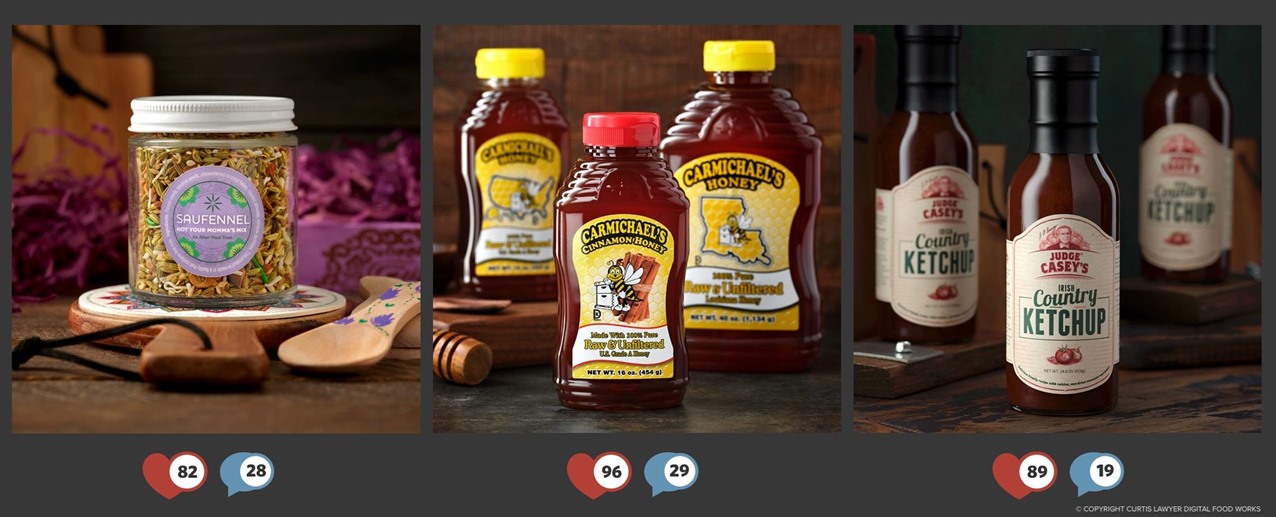 There's three different "environment" photo products in this group... they include
Saufennel Snack Mixes,
Carmichael's Honey, and
Judge Casey's Irish Country Ketchup.
Since I posted the typical pack shots (or product on a white background) photos in the same Instagram stack of photos, they received the same like and comment count.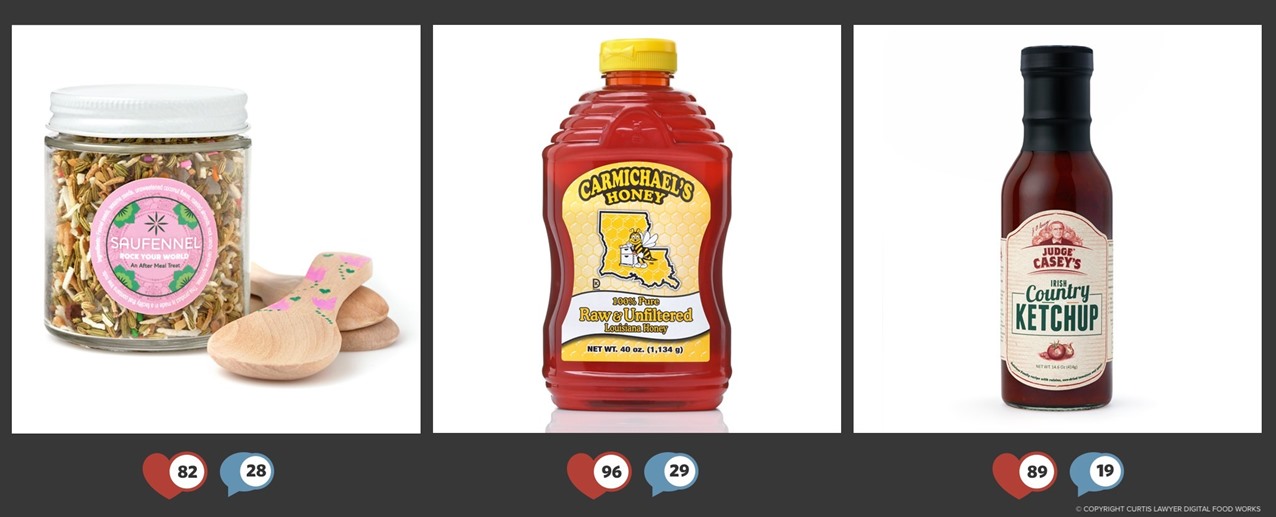 There were also example product shots (or "packshots") on white — in each of the Instagram posts, along with a lighting diagram, and some technique comparison photos as well.
Each of these posts also included a lighting set-up diagram and a couple of comparison shots discussing one technique or another.
Holiday 2020 Photos
Next up are a series of three photos that I "just" posted in the nick of time (the very last three days before Christmas)! These were all so much fun. Surprisingly, the one that was the easiest to shoot, is the one that people liked the most out of the entire series! The Half Dipped Gingerbread Christmas Trees with Sprinkles got 118 likes!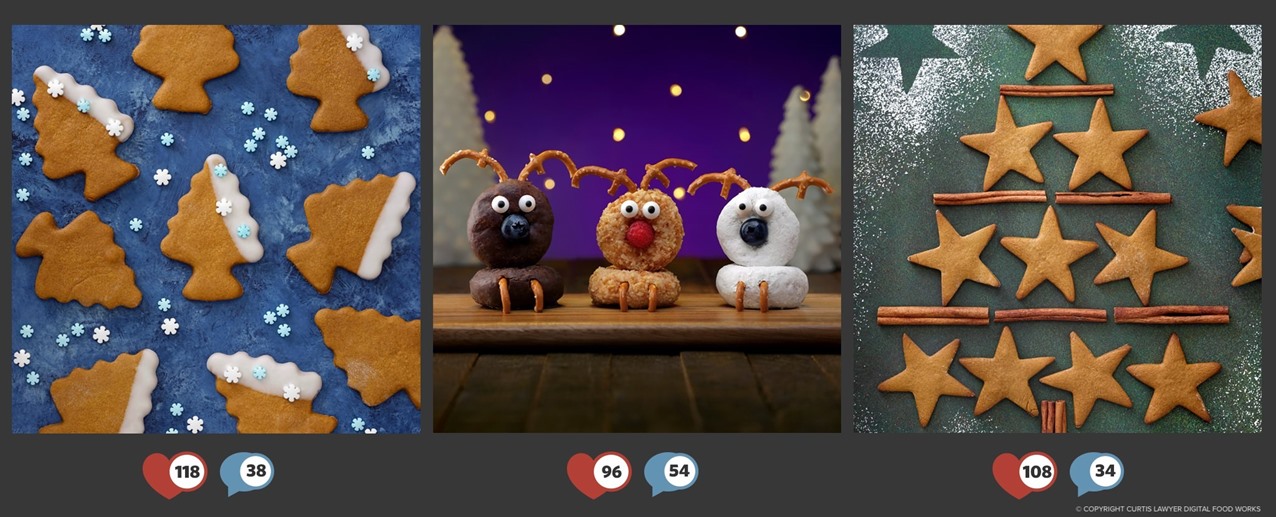 Yay!!!! I managed to get this row of holiday themed photos posted — just a few days before the holidays!
The "Three Doughnut Reindeer" photo was one of the more difficult photos to style and stage from this series, and it did reach runner-up status, as getting the most comments. A couple of the 54 comment interactions even suggested that an animated, stop-motion video of the doughnut reindeer would be great for next year!
Cookie Time
The Elaine Barbee Cookie photo series received the most likes when averaged together as a group! Which is not surprising — they're great looking and great tasting cookies!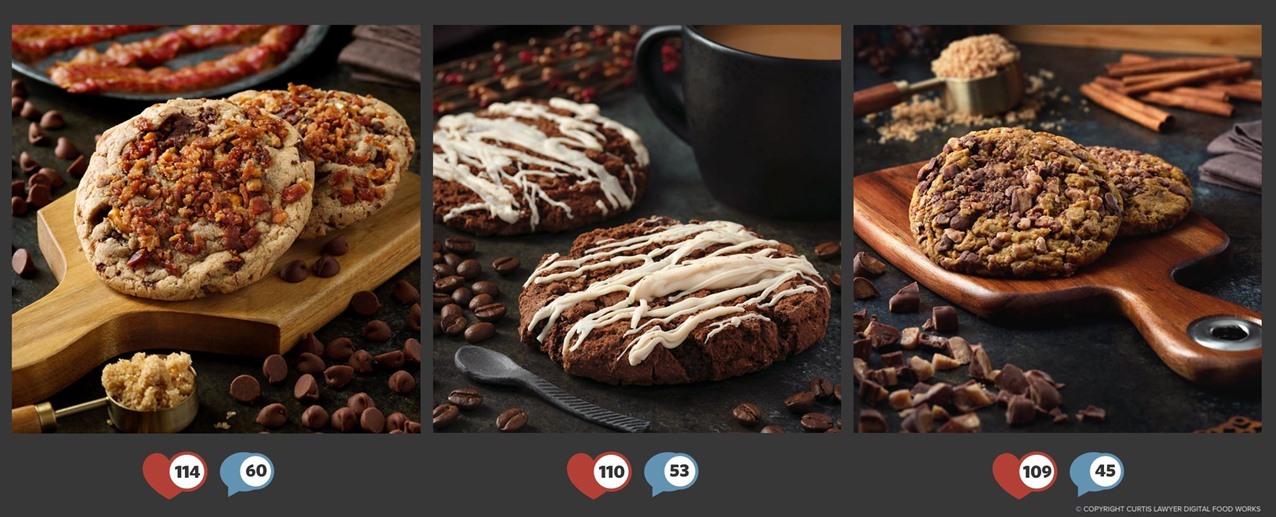 Elaine Barbee's Cookies received the most likes, as a group. Pictured here from left to right
"You Bacon Me Loco Chocolate Pretzel Chunk Cookie", in the center it's her "
Chocolate Espresso Cookie with Caramel Latte Drizzle", and on the right the
"Just Mail It In — Pumpkin Toffee Cookie"!
Closing Stats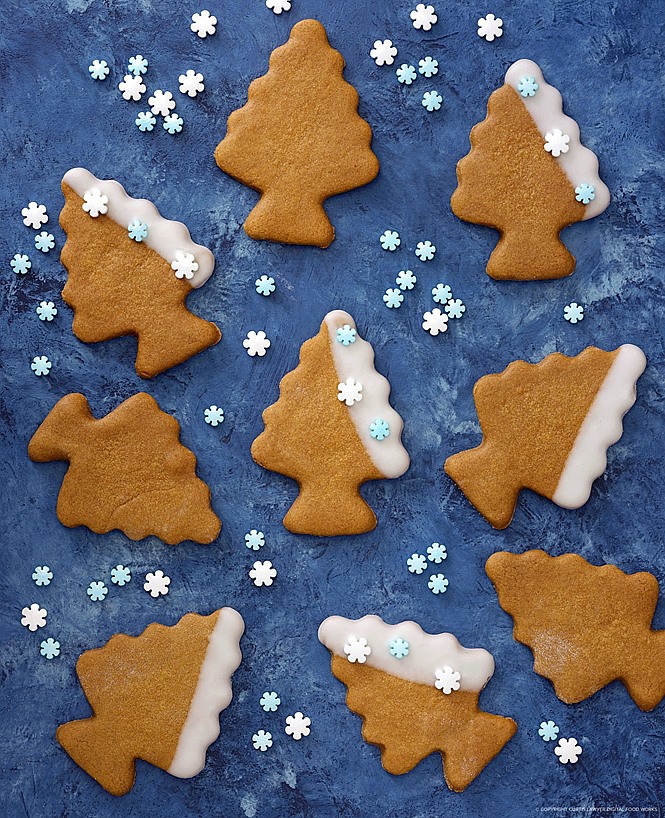 Receiving the most likes from this series (118 at last count), are the "No Spread Gingerbread Cookies". Hummmm, I'll have to post the recipe next year for the holidays! These Christmas Tree shapes were half dipped in vanilla icing along with a few snowflake sprinkles!
I'll close out this article in the same way I've closed out the other "Instagram Recap" articles — with some general stats!
This group of 12 images (that I'm calling the "Holiday's 2020 Series"), resulted in a 6% increase in followers over the course of about 45 days.
The average number of likes per photo was 103 (1,231 total likes divided by 12 photos).
The average photo "like to follower ratio" was around 10.3% (i.e. for every 100 followers, 10 followers "liked" or interacted with the image). That's up 1.7% from the previous "
Late Summer Instagram
" photo series.