Semi sweet rice cream
is a quick make-ahead item that's perfect for breakfast, brunch, or as a not-too-heavy after dinner dessert. The rice cream by itself is extremely versatile and pairs well with any topping or flavor that compliments the preceding meal. With the help of Monin Purees (not sponsored, I just really like the product), a small amount of fruit can quickly turn into an amazing sauce in the blink of an eye! Here's my take on a quick, Peaches and (Rice) Cream dish!
In a small bowl (or in the bowl of a stand mixer that has a whisk attachment), combine the heavy cream, sugar, and vanilla extract. Whisk together on medium, until stiff peaks form. If you're using a stand mixer, that's around 7-8 minutes on high. (But start on slow, this will splash around until the cream starts forming.)
Monin Purees are a great time saver when making a quick dessert or breakfast item like this rice cream. A little fresh fruit blended in with the lightly sweet puree, and it's ready to go! Place the fresh cut fruit in a small prep blender along with the Monin Puree and blend until you're happy with the consistency. Blend a lot, and you'll very nearly get a proper coulis — peaches are soft, and will disappear quick when blended on high for just a few seconds. If you want something that's more like a salsa or compote, pulse blend the mix a few times, and check it with a spoon until it's slightly chunky. In most cases, when the correct balance of cut fruit and Monin Puree is used, there's not really any need to thicken the sauce with any other ingredients.
Additional Notes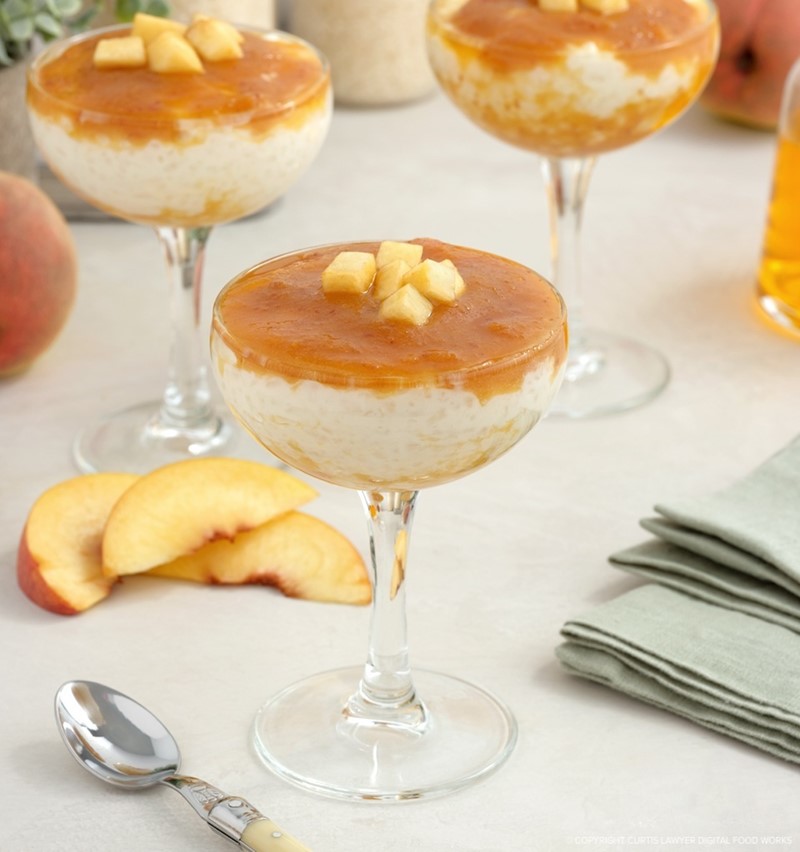 Plate, Serve, and Enjoy!
A simple plating and serving idea would be to add a little of the peach compote to the bottom of a 5oz glass, fill the remaining 80% of the glass with Rice Dessert Cream, top off the glass with more peach compote and a couple of diced peaches!

Short on time?
A great quick-hack for this recipe is to skip the "Make Fluffy Cream" step and just fold-in a portion of ready-made whip cream, that's equivalent to the amount of "heavy cream" that the recipe calls for. It won't taste quite the same, because most ready-made whips lack the amount of fat that you'll find in liquid heavy cream. The instructions for the fluffy cream that's part of this recipe — is also quite a bit sweeter than a traditional ready-made whip cream. But still, it's a good quick substitute!